Take the next step in your journey to greater independence
Our brand new FlyGo800  model is a class 3 mobility scooter. It can be driven both on roads and pavements. You do not need to have a drivers licence, pay road tax or insure the scooter. Green Power scooters are both road and footpath legal.
Our FlyGo800 model is designed to ensure you a smooth, safe and comfortable ride. Featuring a luxurious design, our scooter is equipped with a strong 800W motor and Removable lithium battery providing a very long running range of 45 miles per charge and is perfect for those long days out.
Our FlyGo is equipped with a key fob alarm system, keeping you at ease when parking your scooter. It includes an adjustable seat and armrests to ensure you ride in utmost comfort.  Our FlyGo is a reliable and affordable scooter you are sure to fall in love with at first sight.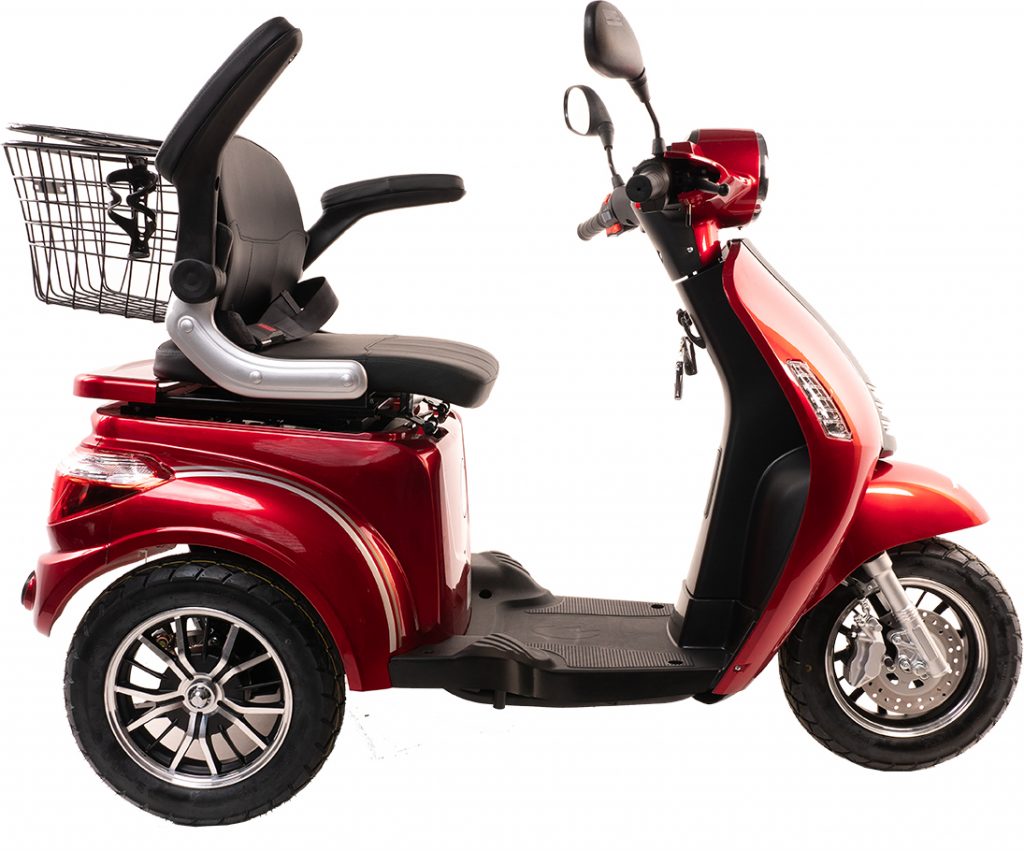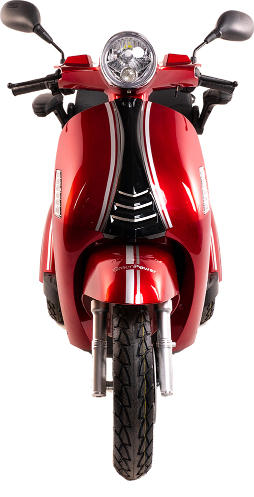 Ride in comfort and Style
Our FlyGo800 Mobility Scooter is designed to provide you with a ride that is safe, reliable, convenient and easy to use. This luxurious, modern style scooter is extremely comfortable and includes features such as:
A plush shell's seat with ability to slide the seat forward and backward, padded, adjustable armrests, a rain cover, phone holder and bottle holder and a large rear basket for storage.
Our 3 Wheeled FlyGo800 model  Is self-balancing, making it easy for anyone to use, even if it's your first time on a scooter. We ensure you, you will enjoy a safe and steady ride with our FlyGo model.
For extra safety it comes complete with an anti-theft alarm system includes key fob for arming and disarming providing you with better security, rear view mirrors, Hand brake system ensuring a safe ride, front and rear suspension ensuring a safe parking and driving experience. It has a full lighting system consisting of low/high headlights, taillights and directional indicators, an advanced remote controller hazard lights and a keyless start.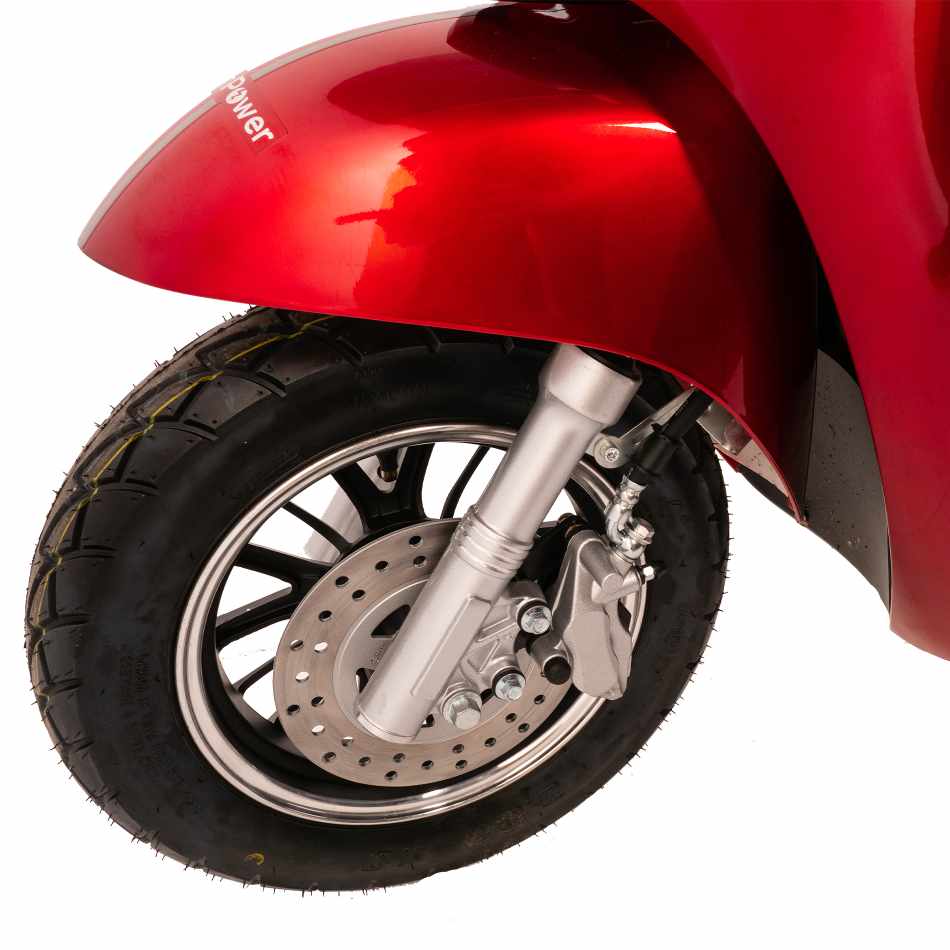 As soon as you place your order and a delivery date has been arranged, you are entitled to a 30-60 minute appointment with our engineer who is will perform a live demonstration of the Electric Mobility Scooter just for you on day of delivery.
He will teach you everything you need to know about how to safely operate the scooter, which includes a comprehensive test drive as well as a Q&A at the comfort of your own home!
We advise that you think of any questions you might have beforehand, so that you don't forget anything when the engineer delivers your scooter on the arranged date.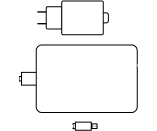 Intelligent Charger

Keys & Alarm system

Paperwork Welcome Pack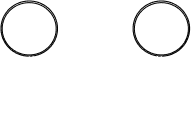 2 Mirrors

Phone Holder

Bottle Holder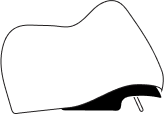 Rain Cover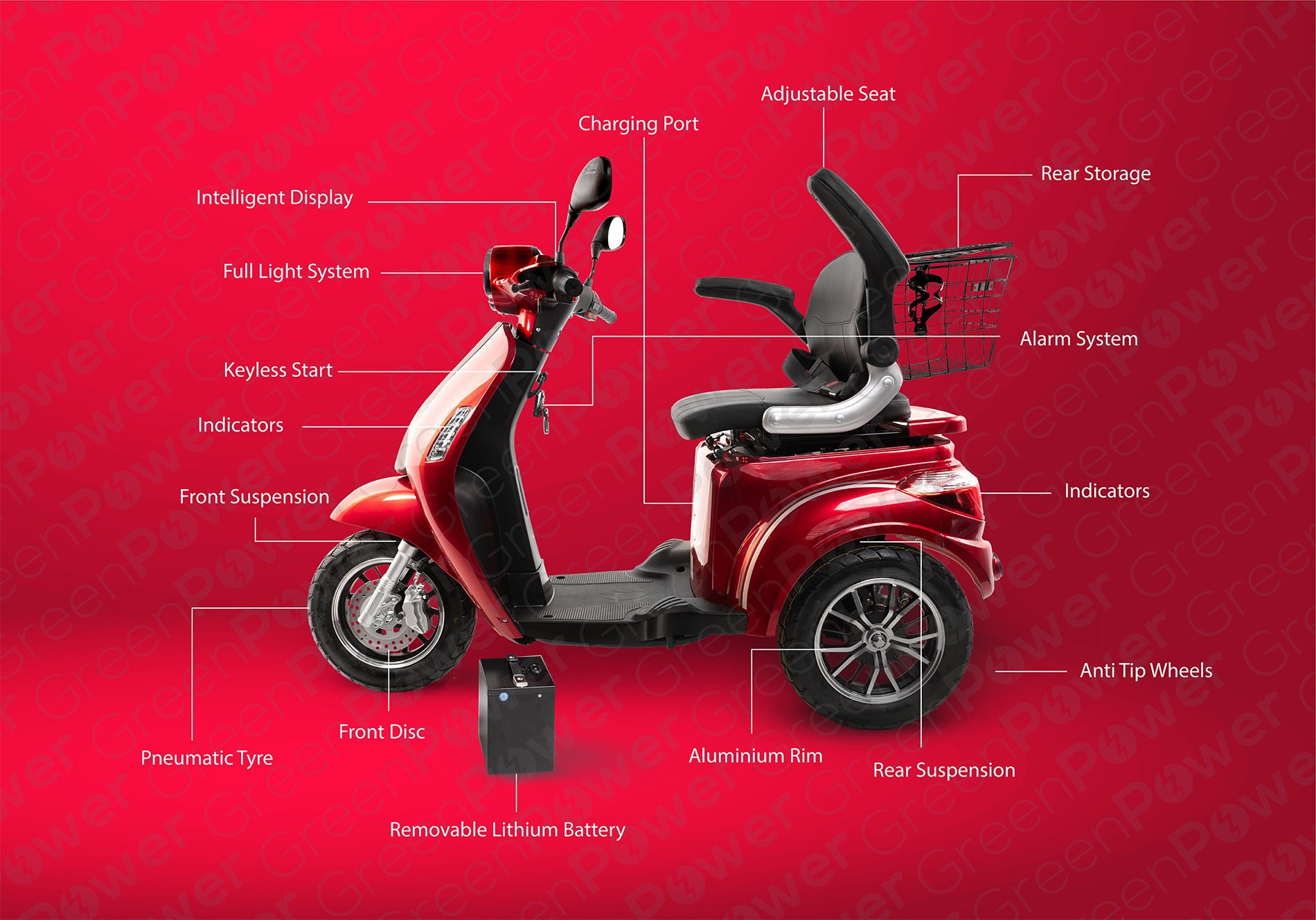 Brushless Motor
Our brushless motors exceed expectations with their capability to tackle steep inclines and challenging terrains with ease. Benefit from maximum power and minimal noise, these motors are reliable and are built to last. Full Suspension
Enjoy full front and rear suspension on your scooter. Designed for both on and off-road use, they automatically adjust according to the road conditions you're travelling on to provide you with soft and smooth braking. Reliable Battery
We provide you with high quality, durable batteries that enable an impressive running distance of up to 45 miles per charge. You can also opt for an additional battery to double the running distance. Alarm System
Your safety is our highest priority and we have designed a smart and efficient remote controlled alarm system, equipped with a keyless start and motor lock feature for your sense of confidence and security.

Extended Warranty
Green Power offers exclusive extended warranty packages that cater to your every need. This provides you with top class engineering assistance in the comfort of your own home and a courtesy annual service. Off Road
Don't be afraid to take a ride on the wild side, thanks to our smart suspension system and powerful motors our scooters are suitable for off-road use giving you the ultimate freedom to explore with no limits.
Let's talk about the Extras
This Scooter can be upgraded with the following items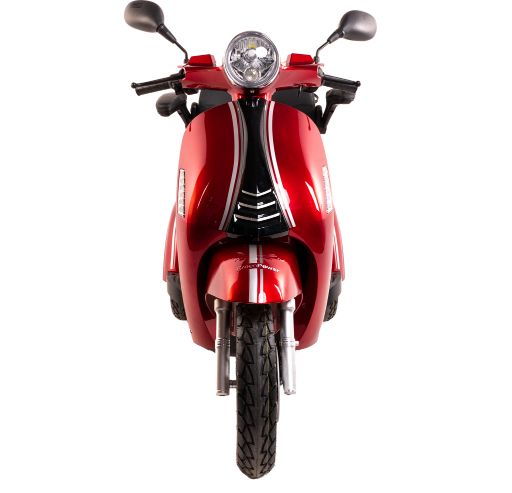 Removable Lithium Battery These incredibly strong, puncture-proof tyres will give you a hassle-free experience with your scooter, eliminating the possibility of a puncture and improving the overall performance.
Removable Lithium Battery
A lithium battery is superior to lead-acid batteries, as it has a longer lifespan and retains its full power capacity. Its lighter weight also helps to maximize the scooter's running distance and the battery can easily be removed to charge remotely at your convenience.
A smart, waterproof unit with FM radio and bluetooth connectivity to all mobile devices for your entertainment. Listen to your favorite songs whilst you travel.
Our high-spec brushless motors effortlessly climb steep hills and power through challenging terrains, ensuring that your scooter is ready for any journey.
Upgrade your scooter with the luxurious Captain Seat, which sports a taller back and headrest providing you with full-back support and ultimate comfort. It is fully adjustable to accommodate your height and preferred sitting angle.
The throttle can be adjusted to sit on the left-hand side to accommodate the needs of those who are left-handed, or who have a stronger grip on that side.
Regain Your Independence Today